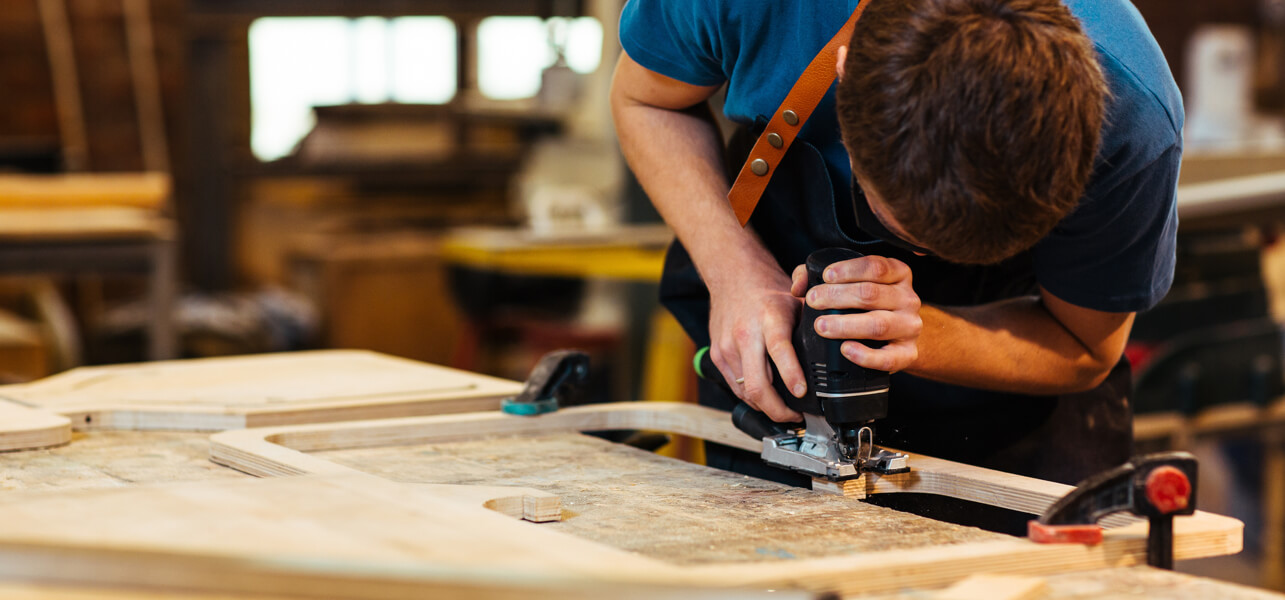 Contract Furniture Solutions is thrilled to announce the launch of our local manufacturing plant! Located in Richmond, B.C., the commencement of this Canadian furniture manufacturer enables better productivity for both customers and suppliers! 
Implementing Local Manufacturing 
Although depending on an overseas manufacturers may comprise of lower labor costs, high volume capacity as well as proximity to suppliers of raw materials, these benefits are compensated through the loss of other valuable resources. The launch of the CFS local manufacturing plant allows us to tackle frequently illustrated complications when working with an overseas manufacturers.
What are the benefits of working with a local manufacturer?
Efficiency
By choosing to work with a local manufacturer, efficiency increases as the management of production becomes easier to control. Additionally, local manufacturers are able to provide a more efficient and accurate timeline of the manufacturing process, and provide a more detailed turn around time for the completion of the goods. There is a higher guarantee for the quality of the good produced as local manufacturers are able to oversee the production process of the furniture. Furthermore, communication also increases as the flow of conversation between the customer and the supplier becomes more reactive
Flexibility
The more flexibility a supplier is able to maintain, the greater the control is over the production. Local manufacturers are able to be more reactive with their clients. In other words, they are able to be more adaptable to various circumstances. This grants a greater capability to be more understanding to the clients' needs within the manufacturing process. Making the process significantly less stressful.
Greater Control
"The further you are from the elements of your supply chain, the less control you have over them."
By working with a local manufacturer, there is a signifiant reduction of the chances of things getting lost in translation. Additionally, due to the high volume of employees within overseas manufacturing plants, it is often that various key aspects of the production process gets lost amidst the communication between customer, supplier and manufacturer. By removing these external variables local manufacturers continue to maintain the advantage of having greater control over their production process.
Sustainability
Also known as Green Manufacturing – local manufactures are able to decrease over production, which is considered to be one of the worst forms of waste universally. Not only does producing locally aid waste preservation, but also assists to reduce the emissions of greenhouse grasses. By subtracting the immense shipping, storage as well as energy output that is required with overseas manufacturing, working with a local manufacturer contributes to improving our carbon footprint. 
Supporting the Local Economy
The manufacturing industry is considered to be one of the driving forces of the Canadian economy. Accumulating to be more than 10% of Canada's GPD, the Canadian manufacturing industry accounts for approximately $174bn. Providing up to 1.7 mil full time jobs, the Canadian manufacturing industry is a huge sector of growth for the country's economy. By supporting these industrial assemblages which enable increases other aspects of the labor market.  
Why should you choose CFS as your local hotel furniture manufacturer? 
Now that various general reasons as to why local manufacturing may be a beneficial option when contemplating your manufacturer has been addressed, how does CFS specifically stand our from our competitors? And what are some reasons as to why we should choose CFS as our local manufacturer of choice?
1. Decrease in Shipping Rates and Shorter Lead Times
One of the largest obstacles when working with overseas manufacturers are the magnificent shipping rates which are added onto the cost of production. We at CFS has recognized the effects of such financial burdens on customers when considering the start of a new project. Therefore, as CFS strives to consistently keep the customers' best interests when operating. We have diligently established this local plant to bare the burden of such financial impacts. 
Additionally, as overseas productions require additional time to ship, pass through customs and arrange delivery. By removing this variable there is a significant decrease in time allocated towards the shipping and delivery. Therefore, lead times and the overall timeline of the production becomed more steady and effortless.
2. More Oversight
By having the flexibility to coordinate in-person meetings to further enhance better communication between the customer and supplier, there is greater confidence in the ability to oversee the scope of the production process. The ability to be present throughout manufacturing, we at CFS encompass leverage to be able to build better relationships, have greater control over various circumstances, as well as provide customers with better terms. 
3. Exceptional Communication
A primary focus, CFS continues to develop innovative methods to improve the flow of communication between us and our clients. By removing the irregularity of communicating with suppliers overseas, CFS is able to stay vigilant in the exchanging of information to mitigate the stressors of the production process. 
4. Effortless Customer Service
We at CFS strive to be an organization that is empathetic, generous, solution-driven, and timely. The launch of the local manufacturing plant grants us better ability to maintain this ongoing effort as it enables improved control over our production process. Further prevailing our ability to apply excellent customer service from the perspective of the customer, and maintain the best interest of our clients at hand. 
5. Employee Safety & Workplace Satisfaction
Not only does the launch of the CFS local manufacturing plant aid in the creation of new jobs, hence better improving the local economy, but we also strive to maintain employee safety and workplace satisfaction within our organization. We at CFS understand the cruciality of supporting our staff and recognizing their achievements, growth, autonomy. In turn, this produces better organizational productivity where efficiency is met through a positive work environment. 
We hope this gives you more information as to why you would benefit from choosing our local manufacturing plant would benefit your overall experience.
Upon considering these factors, please check out some other projects we have been previously a part of. If you have further questions regarding the initiation of our local manufacturing plant, or regarding any other inquiries or concerns you may have regarding commercial furniture please do not hesitate to contact us.